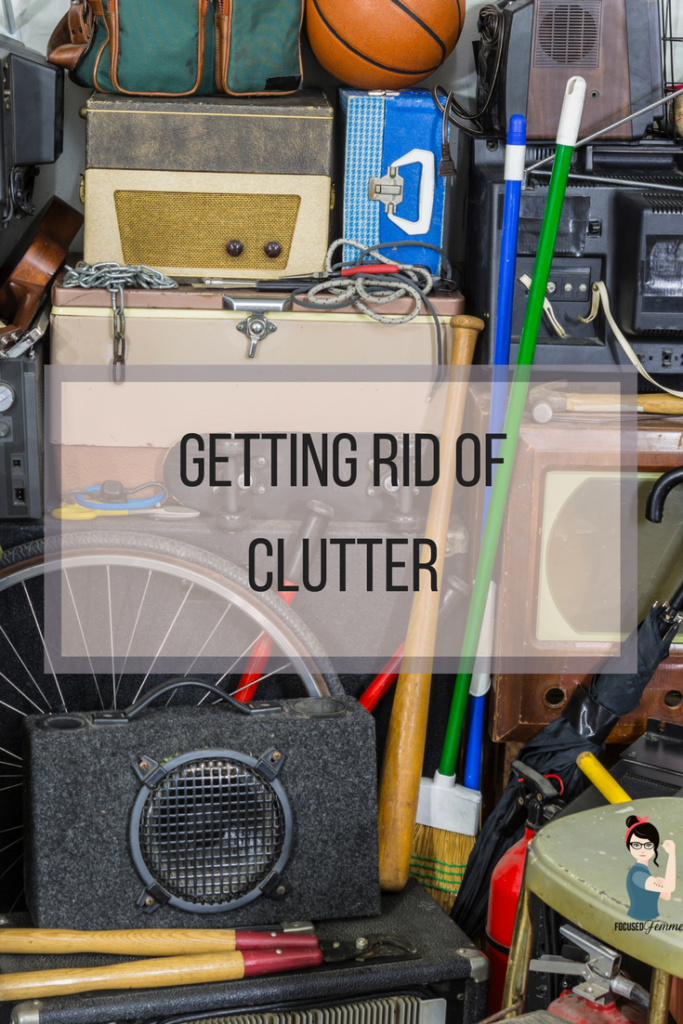 A foundation of any organizing technique is getting rid of clutter.  The less you have, the easier it is to organize!  You can certainly organize large quantities of belongings, but it will still likely feel overwhelming in your home.
Tip 1 For Getting Rid of Clutter: Don't Add More
I know it's tempting to just dive right in, but really the best place to start is not bringing more in to your home.  If you want to buy something or add something, have a clear picture in your mind of where it will go and what you will use it for.  That olive pitter is a nifty gadget, but if you only are going to use it once a year and have limited storage space in your kitchen, it may not be the greatest investment.
Tip 2 For Getting Rid of Clutter: Start Small
It's important to have the little victories.  Success breeds success, right?  If you could get lost in your closet without anyone being able to find you, that may not be a great first project.  Start with the junk drawer in your kitchen (everyone has one!).  Once you've conquered that, move to more drawers or cupboards.  Start to clear small surfaces before moving to larger ones.
Tip 3 For Getting Rid of Clutter: Recognize Emotional Attachment
This is a toughie.  I am as guilty of this as anyone.  There's that dress you wore to your child's baptism.  The butter dish you were given for your wedding from your great aunt.  Your children's art projects.  Their clothes.  The list goes on and on.  It is tough, but if it's something you aren't using or isn't fitting, it may not make sense to keep.  (I'm going to exclude family heirlooms that have been passed down generations here of course.)  You can take photos of you're kids art and keep some of the more special pieces.  I especially like keeping anything made with hand or footprints!  For clothing, if it doesn't fit or you don't find yourself wearing it, I would encourage you to let it go to someone else who might love it.  If you are holding onto a smaller size just in case, keep in mind that if you lose weight there is a good chance that your style might change, and that you may want to treat yourself to new clothes!  Try to separate the emotional attachments that may be making you hold on to things.
Tip 4 for Getting Rid of Clutter: Put Things In Their Place
How many times do you set something down and think "oh, I'll put that away in a minute" while you do something else.  How often do you go back in that minute?  A great rule is to put everything back in it's designated place immediately. If life does interrupt, put it away before you go to bed.  Nothing should stay out overnight.
For more on emotional attachments, click here.