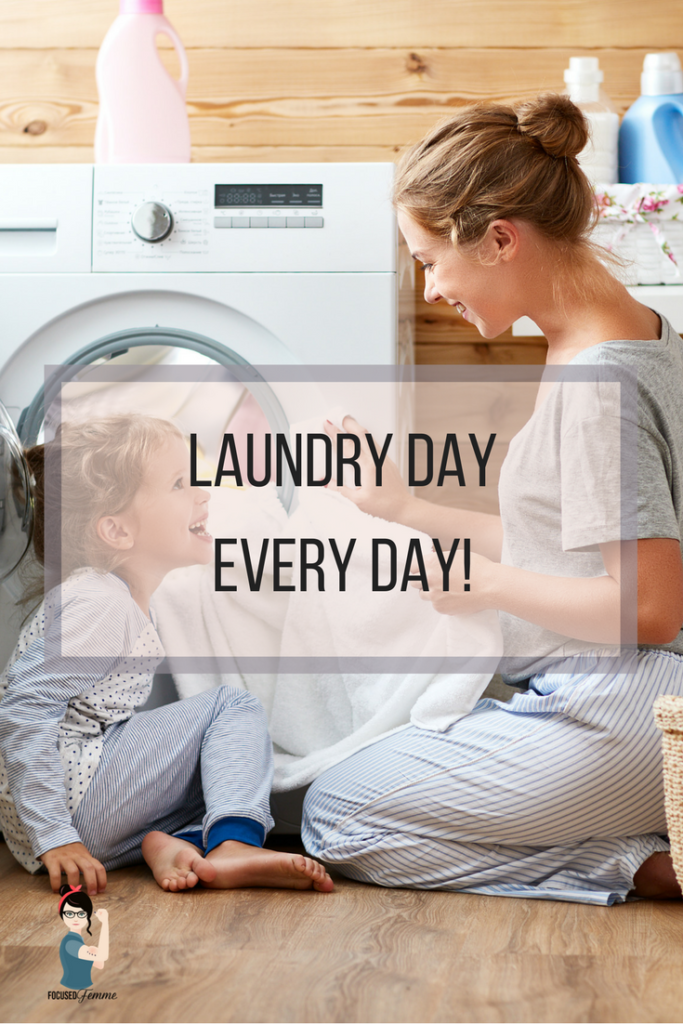 It's laundry day every day in my house!  This is actually a good thing!  I have tried dedicating one day to laundry per week and it doesn't work for us.  My technique and reasoning is below:
Laundry Day Every Day- Let the Fun Begin!!
I actually do laundry every day of the week.  While this might sound like a nightmare to some of you, hear me out.  The problem with reserving laundry for one day a week is you end up with a giant pile that you have to get done, and that gets overwhelming.  Eat the elephant one bite at a time!  I'd rather not give up an entire day to remembering to switch loads, fold, and put away.
Each day of the week is designated for a specific load.  I use color catching wipes and do my kids' laundry as one load except for anything especially delicate.  This allows me to do just one load for each kid, which makes it more likely to get the load all the way done that day.  My husband's and mine gets separated into whites and everything else, also with the aid of the color catching wipes.
Towels get a day, and bedding also gets a day. When you break it up into smaller chunks and do it throughout the week, it is less overwhelming.  Use the few minutes you can find here and there during the day to fold and put away the laundry.
Get others in the house to help when possible.  Little hands can help fold or put away, even if it isn't perfect.  Other big hands can help too.  😉
Another thing that can help make laundry a little more fun is painting your laundry room a bright color and getting your laundry supplies neat and organized.  It really can be a little haven!
Want some ideas on product for your laundry room?  Contact Me!