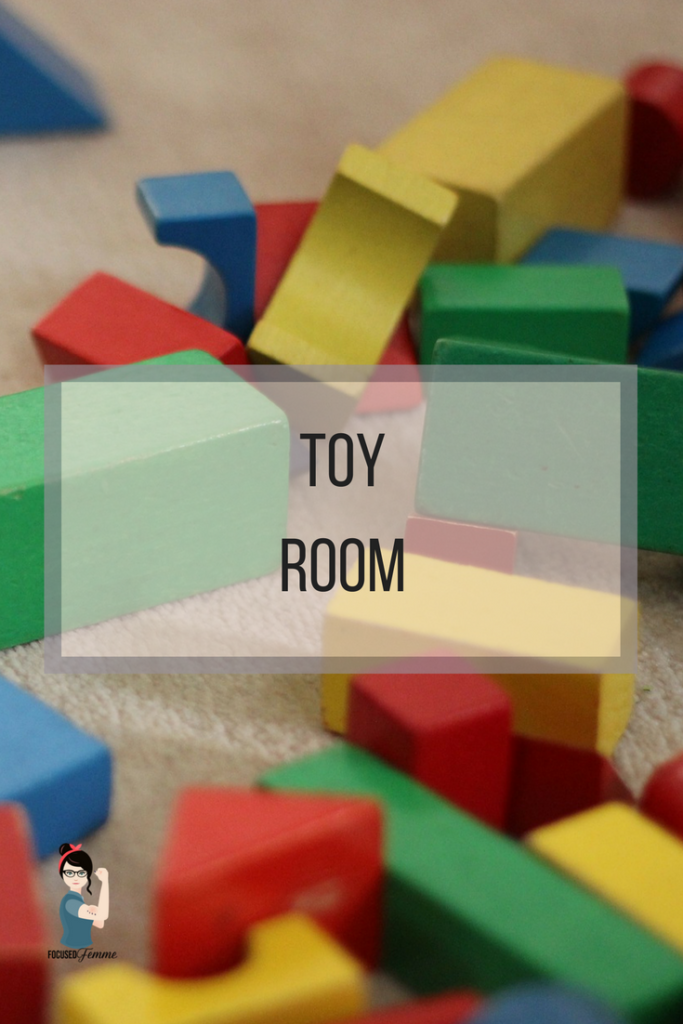 If you have small kids, chances are you have toys in many places.  Whether you have a separate toy room or keep the toys in the kids' rooms, it can be a challenge.  The kids somehow end up with so many toys between ones that they talk us into at the store to gifts from parents and grandparents.  An organized and clear play area encourages play.
Decluttering the Toy Room
The first step, as you've heard me say, is to pare down and declutter.  If your children are old enough, involve them in the process.  You may be surprised at how well they can help.  I recently did this with my 4 year old.  I knew she had quite a few toys that she had outgrown and no longer played with.  Rather than taking care of things when she was at preschool, I went through her toys with her.  I asked her simply if she liked each toy as I held it up.  She surprised me by easily being able to identify the few that she liked and was ok with getting rid of the rest.  I bagged them up and, truthfully, kept them in the garage for a day or two just to be sure she didn't start looking for them again.  When she didn't I took them to Goodwill.  You can certainly involve your child in handing them over to Goodwill or to consignment as well. I had the whole process so built up in my head, anticipating a fight at every turn, and I was pleasantly surprised.  We will likely make this a habit every few months.
Organizing the Toy Room
The second step is rotating toys.  You have possibly heard this before, but it REALLY makes a difference.  Keeping some toys set aside for use on different days or even months can make them seem brand new again.  This curbs the desire to get new toys on every outing.
I also like to categorize toys and put them in different bins.  This makes them easier for my kids to find what interests them.  Dress up clothes together, learning games together, board games together, and so on.  It also makes cleanup easier when it's clear where everything goes.  My 16 month old's bins are lower down for easier access.
Make use of your vertical space when possible.  Shelving that will hold bins on top of each other is great, as well as wall organizing units or bookshelves.
Cleanup
Before new toys are taken out, other toys must be put away.  Otherwise it is easy for the toy room floor to get loaded up with toys and the kids lose interest quickly.  It is truly amazing how much more inviting a cleared out toy room is for kids to come into.  When the playroom is messy, they tend not to go in.  Get the kids involved in cleanup every time, otherwise they will expect you to do it.  Sing a song, whatever it takes!
Comment below with your biggest play area struggle!